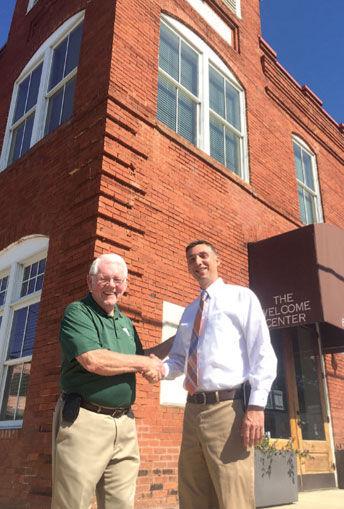 The mayor of Forsyth met with Eric Wilson on Monday to discuss ways to improve the city. No that's not a misprint. Eddie Coleman is the mayor of Forsyth, Missouri and he stopped in Forsyth, Ga. on Monday for a summit of sorts between him and Wilson, the respective mayors of the sister cities.
Coleman said he did an Google search for all cities called Forsyth in the U.S. and he found three others besides his own. There's also a Forsyth in Illinois and Montana. Coleman said he plans to visit all of them but his first was to Forsyth, Ga. as he's on his way to Virginia to see a great grandson graduate. Coleman said Forsyth, Mo. has about 2,800 citizens, a little smaller than Forsyth, Ga. But it's the county seat of bustling Taney County, the home of tourism magnet Branson, Mo. as well as three lakes. The biggest problem they have, said Coleman, is flooding from the White River, one of the few rivers that flow to the north out of Arkansas. In fact, the town of Forsyth, Mo. had to be moved completely in 1951 when a dam was built that flooded the town square. The town moved to higher elevation and no longer has a town square.
Wilson said he plans to reciprocate Coleman's visit with a trip to Missouri sometime.