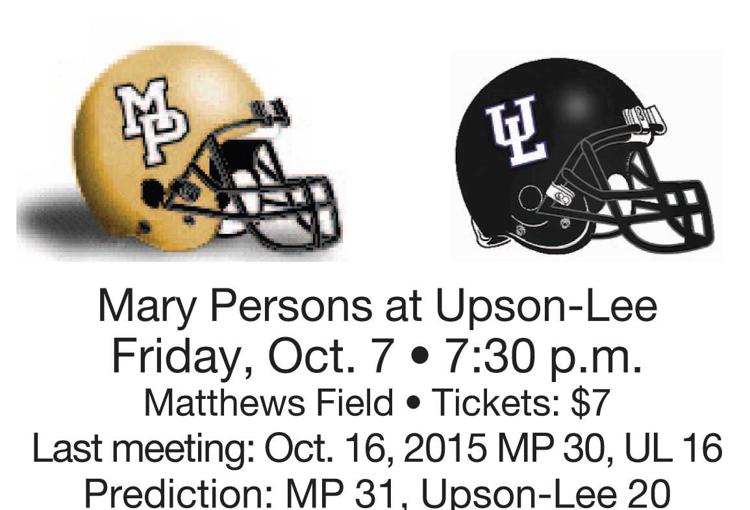 Coming off of their most significant victory of the season, the Mary Persons Bulldogs will take to the road again on Friday to challenge a familiar region rival on its home field.
The Bulldogs, 4-2 overall (1-0 in Region 2-AAAA), will travel to Matthews Field in Thomaston to take on 3-2 Upson-Lee, which has yet to play its first region contest. The Knights are coming off of a bye week, which was preceded by a 55-10 home demolition of Jordan on Sept. 23 to get their record back above .500. In fact, the Knights have yet to play a game decided by fewer than 10 points this season. Upson-Lee opened the season with a pair of home wins over Columbus-area schools, 23-13 over Shaw on Aug. 26 and 20-0 over Columbus on Sept. 2. The Knights then were blown out in back-to-back road contests, 53-7 at Griffin on Sept. 8 and 34-7 at Calloway on Sept. 16.
MP has beaten the Knights in each of the past two seasons, including a 42-0 blanking of Upson-Lee in a much-hyped contest at Matthews Field in 2014. Prior to 2014, the Bulldogs did not face the Knights for 23 years after developing memorable rivalry with both Upson and R.E. Lee in the '70s and '80s before the two schools combined in 1992.
The Bulldogs faced Upson 14 times between 1974-1991, winning 11 of the 14 contests. MP's rivalry with R.E. Lee was a bit more competitive with MP winning 12 of 17 meetings between 1978-1989. The Rebels won the first six meetings between the two programs between 1939-1945, shutting out MP in each contest by a combined score of 195-0. Under the old GHSA playoff format, the Bulldogs and the Rebels met five times in region finals with MP winning in 1978, 1980, 1982 and 1985 before R.E. Lee exacted revenge in 1988.
Led by third-year head coach Tommy Parks, the Knights qualified for the state playoffs in 2015 for just the second time since 2005. Upson-Lee has compiled an impressive 18-8 record since Parks took over prior to the 2014 season.
The Knights, which utilizes a run-based offense, are led by third-year starting quarterback Kalen Puckett.